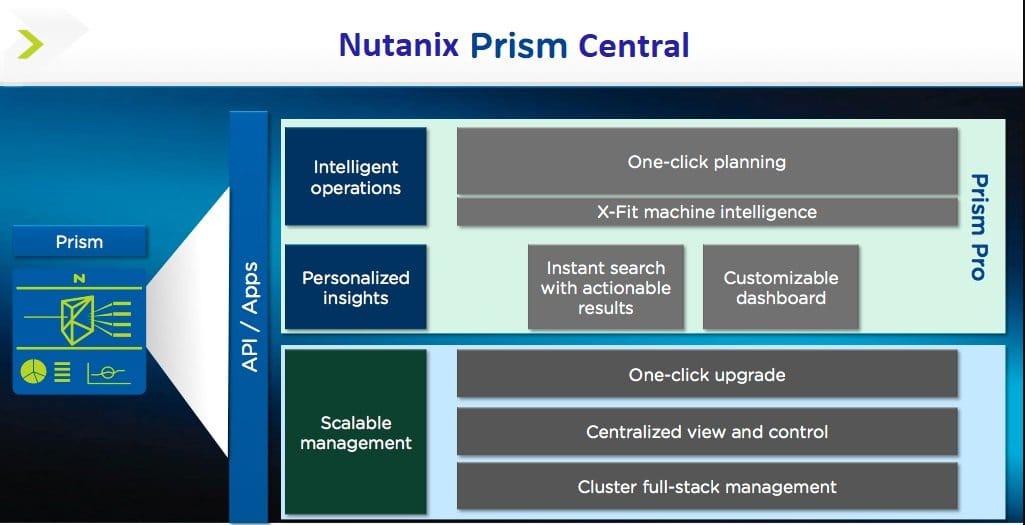 Nutanix Prism Central offer a lot of extremely advance features list in comparison of Prism element. Nutanix Prism Central licensing is divided into two types Nutanix Prism Pro Vs Prism Starter. Nutanix Prism Pro is costly in term of pricing with premium features but Prism Starter offers general features only. Prism Central offer Add-on Services with add-on licensing on per node or years subscription basis. Latest Nutanix Prism central / Pro is available to download from Nutanix Portal directly. I will explore top Nutanix Prism Central, Prism Pro and Prism Starter features in detail.
Read also: Nutanix Licensing Starter Vs Pro vs Ultimate Comparison
What is Nutanix Prism Central
Nutanix Prism Central was natively developed to mange Nutanix multiple cluster through single manageable window to centralized the monitoring and perform task without any hassle to manage the Nutanix Acropolis cluster. The Nutanix Prism Central run as a virtual machine VM that is installed after the Nutanix Cluster is up and running.
Read more on Nutanix Prism core architecture
Nutanix Prism Central Overview
Nutanix provides an option to monitor and manage multiple clusters through a single web console. This multi-cluster view, known as Prism Central, is a centralized management tool that runs as a separate instance comprised of either a single VM or a set of VMs. Prism Central provides the following features:
Single sign on for all registered clusters.
Customizable main dashboard that displays summary information across the registered clusters.
Virtual infrastructure dashboards with drill-down options to manage VMs, storage containers, catalog items, images, categories, recoverable entities, and subnets across the registered clusters (Virtual Infrastructure Entities).
Dashboards to manage security policies, protection policies, recovery plans, Nutanix Guest Tools (NGT) policies, and image placement.
Hardware component dashboards with drill-down options to view detailed information about individual clusters, hosts, disks, and GPUs across the registered clusters.
Activity monitors for alerts, events, audits, and tasks
Tools to analyze system activity, plan for resource needs, create usage reports, and automate routine administrative tasks
Dashboards to manage inventory (LCM Process ), projects, roles, users, and availability zones
Service connection pages to enable Calm, Karbon, and Buckets
Nutanix Prism Central Features list
Nutanix Prism Central feature list is here
Single sign on for all registered features
Summary dashboard across clusters
Summary dashboard for clusters, VM, Hosts, Disks, Storage with drill down options to view detailed information
Multi cluster analytics capabilities
Multi cluster alerts summary with drill down options to view information about possible causes and corrective actions
Ability to configure individual cluster
Prism Central Version History is here :
| | | |
| --- | --- | --- |
| Version Number | Publish | Notes |
| 1.0 | Mar-16 | Orignal Publication |
| 1.1 | Jun-16 | Update for AOS 4.7 |
| 1.2 | Dec-16 | Update for AOS 5.0 |
| 1.3 | May-17 | Update for AOS 5.1 |
| 1.4 | Dec-17 | Update for AOS 5.5 |
| 1.5 | Apr-18 | Update for AOS 5.6 |
| 2 | Feb-19 | Update for AOS 5.10 |
| 2.1 | Aug-19 | Update for AOS 5.11 |
Nutanix Prism Central Default Credential
Nutanix Prism Central installed on running Nutanix acropolis cluster with default credential ( user name id and password ) to login into the Nutanix Prism Central web console.
Nutanix Prism Central web console default credential ( default user name and password ) is username: admin and Password: Nutanix/4u
Nutanix Prism Central VM default credential ( default user name and password ) is username: nutanix and Password: nutanix/4u
Read also how to reset Nutanix Prism Central web password ?
Nutanix Prism Central Installation
To install / deploy the Nutanix prism Central on Nutanix running cluster is very easy through Prism UI using one-click deployment bundle. Nutanix Prism Central one-click deploy bundle is single file that can install on Nutanix AHV, ESXi or Hyper-V cluster in couple of minutes.
Nutanix Prism Central Deployment processor below :
What is Nutainx Prism Pro ?
Nutanix Prism Pro is a set of features providing advanced analytics and intelligent insights into managing a Nutanix environment. These features include performance anomaly detection, capacity planning, custom dashboards, reporting, and advanced search capabilities. You can license the Prism Pro feature set to unlock it within Prism Central.
Prism Pro enables smart IT operation and automation by optimizing capacity intelligently, monitoring and resolving anomalies proactively, and automating remediation and operations tasks. Nutanix Prism Pro functions and how to use them to manage, monitor, and scale Nutanix clusters. It explains and highlights simplified cluster administration methods and operational insights.
Prism Pro is a subscription, or a license that enables additional features in Prism Central. The Prism starter license is included with your purchase of Nutanix. All of the features that I reviewed in the Prism Central slide are included with Prism Starter. Prism Pro removes all risk form future datacenter planning and purchasing read more.
Read also Why Nutanix adopted the Nutanix prism as service
Nutanix Prism Pro features
Nutanix Prism Pro features are list here
Google like advance Search
Customizable Dashboard
Capacity Runway: Behavior trends
Nutanix VM Profiling
Multiple Cluster Upgrade
Dynamic Monitoring
Real-time Simulate workload forcasting
Advanced Reporting Capabilities
Explore the Nutanix Prism Pro features in detailed to take deep dive into advanced features below :
Google Like Advance Search
Nutanix prism Pro offer to search Nutanix infra related entities as content format. example show VM who is using memory equal or greater then 10GB ,VM memory =< 10GB. This is very advance feature that help to get deeper details of Nutanix cluster entities.
Customize Main Dashboard
Nutanix Prism Pro offer the custom dashboard feature allows you to build a dashboard based on a collection of widgets. You can arrange the widgets on the screen to create exactly the view into the environment that works best for you. A dashboard's contents can range from a single widget to a screen full of widgets.
Prism Pro comes with a default dashboard offering a view of capacity, health, performance, and alerts that should be ideal for most users and a good starting point for others. Prism Pro includes a number of fixed and customizable widgets that you can add to dashboards. The customizable widgets allow you to display top lists, alerts, and analytics.
Organizations can create separate dashboards for different physical sites, business units, administrators, or any number of other functions.
Capacity Runway
Nutanix Prism Pro deliver the Capacity planning feature to focuses on consumption from three resource buckets: storage capacity, CPU, and memory. Capacity results are illustrated as a chart that shows the historical consumption for the capacity metric along with the estimated capacity runway. The capacity runway is the number of days remaining before the resource item is fully consumed.
The Nutanix X-FIT algorithms perform capacity calculations based on historical data. Prism Pro initially uses the 90 days of historical data from each Prism Element instance, then continues to collect additional data to use in calculations. Prism Pro retains capacity data points longer than Prism Element, allowing organizations to study a larger data sample.
The X-FIT method considers resources consumed and the rate at which the system consumes additional amounts in the calculations for runway days remaining. Storage calculations factor the amounts of live usage, system usage, reserved capacity, and snapshot capacity into runway calculations. Storage capacity runway is aware of containers, so it can calculate capacity when multiple containers that are growing at different rates consume a single storage pool. Container awareness allows X-FIT to create more accurate runway estimates.
Nutanix VM Profiling
Within a virtualized environment, resources can become constrained globally or on a per-VM basis. Administrators can address global capacity constraints by scaling out resources, either by adding capacity or by reclaiming existing resources.
The VM efficiency features with troubleshooting in Prism Pro recommend VMs within the environment that are candidates for reclaiming unused resources that you can then return to the cluster. Individual VMs can also become constrained when they do not have enough resources to meet their demands.
Prism Pro presents the VMs it has identified as candidates for VM efficiency in a widget, breaking the efficiency data into four different categories for easy identification: over-provisioned, inactive, constrained, and bully. The over-provisioned and inactive categories provide a high-level summary of the amount of potential resources that could be reclaimed from each VM.
The list of candidates presents the total amount of CPU and memory configured versus the peak amounts of CPU and memory used for each VM.
Over-provisioned: VMs identified as using minimal amounts of assigned resources.
Inactive: VMs that have been powered off for a period of time or that are running VMs that do not consume any CPU, memory, or I/O resources.
Constrained: VMs that could see improved performance with additional resources.
Bully: VMs identified as using an abundance of resources and affecting other VMs.
Multiple Cluster Upgrade
Nutanix Prism Pro provide robust upgrading Nutanix clusters mechanism that has long been a delightful experience delivered via one-click upgrades. The one-click process hides a lot of complexity by using advanced automation and a consumer-grade design experience. Historically, each cluster had to be upgraded one at a time. While the process itself was simple, this constraint still extended the length of time required to complete upgrades for multi-cluster environments.
Prism Pro offers the ability to upgrade multiple clusters from one Prism Central instance. With this functionality, an administrator can select multiple clusters, choose an available software version, and push the upgrade to these clusters. If the multiple clusters you're selecting are all within one upgrade group, you can decide whether to perform the process on them sequentially or in parallel.
Dynamic Monitoring
Nutanix prism Pro deliver Dynamic monitoring uses VM behavioral learning powered by X-FIT technology to build on VM-level resource monitoring. The system learns the behavior of each VM and establishes a dynamic threshold as a performance baseline for each resource assigned to that VM.
Each of the resource charts represents the baseline as a blue shaded range. If a given data point for a VM strays outside the baseline range (higher or lower), the system detects an anomaly and generates an alert. The anomaly is noted on the performance charts for easy reference and follow-up.
With behavioral learning, performance reporting delivered via Prism Pro helps organizations better understand their workloads and have early knowledge of issues that traditional static threshold monitoring would not otherwise discover.
Real-time Simulate Workload Forecasting
As part of the capacity planning portion of Prism Pro, you can model adding new workloads to a cluster and how those new workloads may affect your capacity. Scaling cluster capacity is an important operational function that ensures that existing and future applications enjoy a delightful experience.
Historically, organizations have made these scaling decisions in legacy environments based on back-of-napkin math and guesswork. With Prism Pro, the Nutanix Enterprise Cloud uses data from X-FIT and workload models that have been carefully curated over time through our Sizer application to inform capacity planning. The add workload function allows you to add various applications for capacity planning. The Nutanix Prism Pro available workload planning options are:
SQL Server: Size database workload based on different workload sizes and database types.
VMs: This method allows you either to manually specify a generic VM size to model against or to select existing VMs on cluster to model growth against. ⁃ Helpful when planning to scale a specific application already running on the cluster.
VDI: Provides options to select broker technology, provisioning method, user type, and number of users.
Splunk: Size based on daily index size, hot and cold retention times, and number of search users.
XenApp: Similar to VDI; size server-based computing with data points for broker types, server OS, provisioning type, and concurrent user numbers.
Percentage: This option allows for modeling an increase or decrease in capacity demand for the cluster. ⁃ Example: Plan for 20 percent growth of cluster resources on a specified date.
Once you have created a scenario and defined at least one workload, you can switch between the different clusters under management to easily understand how adding this workload would affect them. This capability provides intelligent guidance, not only for understanding how new workloads would affect a cluster, but also for deciding which cluster would be the best location for the workload.
Advanced Reporting Capabilities
The Nutanix Prism Pro reporting feature within Prism Pro allows you to create both scheduled and as-needed reports. Prism Pro includes a set of customizable predefined reports, or you can create new reports using a built-in WYSIWYG editor. In the editor, simply select data points and arrange them in the desired layout to create your report. The ability to group within reports can help you get a global view of a given data point or allow you to look at entities by cluster.
Once you have created them, you can run reports either on an as-needed basis or by setting them to run on a schedule. Each report is configured to retain a certain number of copies before the system purges the oldest versions. To access reports, choose the report, then select the version you wish to view. You can either view the report within Prism or via email, if you have configured the report to send copies to a recipient list.
Reports can provide information to the organization that is useful at all levels, from operations to leadership. A few common good use cases include:
Environmental summary: Provides a summary of cluster inventory entities and resource utilization.
Cluster efficiency: Details possible capacity savings at the VM or cluster level.
Inventory: Produces a list of physical clusters, nodes, VMs, or other entities within an environment.
Nutanix Prism Pro Licensing
Nutainx Prism is available in two editions: Prism Starter and Prism Pro. Nutnaix Prism Starter licensing is included with every edition of Acropolis for single and multiple site management. Prism Pro is available as an add-on subscription.
Nutanix Prism Pro licensing is available for purchase on a subscription basis. A trial version of Prism Pro is included with every edition of Acropolis with 60 days trial. Nutanix Prism Pro Licensing price / cost will be on a per-node per year basis with option to purchase for 1/2/3/4 or 5-year term. One license should be purchased for each node in the cluster that is being "managed" by Prism Pro. All nodes managed by a Prism Central instance with Pro features enabled must be licensed.
Nutanix prism Pro license price / cost is between USD $12,166.99 — $19,210.99 for 5 years support per node basis. you can purchase Nutanix Prism Pro license from online websites e.g webiste1 either website2
Each node registered to and managed by Prism Pro requires the application of a Prism Pro license through the Prism Central web console. For example, if you have registered and are managing 10 Nutanix nodes (regardless of the individual node or cluster license level), you need to apply 10 Prism Pro licenses through the Prism Central web console.
Nutanix Prism Pro Vs Prism Starter Features
Nutanix differentiate the feature of Nutanix prism Starter vs Nutanix Pro licensing features Comparison list is below :
Read more Nutanix Licensing Starter Vs Pro vs Ultimate Comparison matrix
Prism Central Add-on Services
Nutanix Prism Central has add-on services with add-on licensing to use them as mentioned below :
Nutanix Calm
With Calm, you're ready to automate the provisioning of multi-cloud architectures, managing both multi-tiered and distributed applications across different cloud environments, from a single control plane. Calm supports all the major public clouds—AWS, Azure, and GCP—in addition to on-prem private clouds powered by AHV or ESXi.
Nutanix Calm Licensing
Nutanix Calm license is sold as an annual subscription licensed on a per virtual-machine (VM) basis. Calm licenses are
required only for VMs managed by Calm, running in either the Nutanix Enterprise cloud or public clouds.
Nutanix Calm is sold in 25 VM subscription license packs
Nutanix Era
Era captures all database states and enables one-click, full production quality database copy and paste operations from any point in time, while maintaining SLA-based QoS.
Nutanix Era Licensing
Era is a subscription term-based software license. This product is licensed based on the concept of managed database server vCPUs. vCPU licensing is a consumption-based model that will allow customers to license just the database servers that will be managed by Nutanix Era.
Licenses are sold in 1 to 5 year subscription terms
Nutanix Flow
Nutanix Flow Deliver application-centric security for your VMs running on AHV via visualization, micro-segmentation, and network automation. Extend your functionality further with networking partner integrations.
Nutanix Flow Licensing
Nutanix Flow license is sold as an annual subscription licensed on a per node basis. Licenses are needed for all nodes in a cluster where microsegmentation functionality will be used. This option requires a Nutanix cluster managed by Prism Central and using the AHV virtualization solution.
Licenses are sold in 1 to 5 year subscription terms
Prism Central with Starter license is needed to manage micros-egmentation policy
Nutanix Files
Nutanix Files provides single pane of glass management simplicity, software defined flexibility, and deep analytics intelligence to meet the modern challenges you face around file data.
Nutanix Files Licensing
Nutanix Files license is sold by capacity under two different licenses, Nutanix Files and Nutanix Files Pro. Nutanix Files is intended for enterprise file workloads at edge locations including remote/branch offices (ROBO) where there is a mix of VM and file workloads.
It is the license that would be used for mixed file storage and AOS clusters. Nutanix Files Pro is intended for most enterprise file workloads including enterprise apps and large home directories. It is the license that would be used for dedicated file storage clusters.
Read more on updated Nutanix licensing terms here on Nutanix Software license
Download Nutainx Prism Central
Download Latest Nutanix Prism Central / Pro version from Nutanix Portal through one-click.
Download Latest Prism Central version direct link: Download Nutanix Prism Central / Pro bundle size would be 4-5GB.
Conclusion
Nutanix Prism Central is VM appliance contains the two type of licensing features known as Prism Pro licensing feature and Prism starter licensing feature those features have its won use case. Organizations can adopt any feature to try it for 60 day trial, as per your IT infra requirement can purchase the license from Nutanix directly or online seller websites.
I hope,you get the detailed information about Nutanix Prism Central: Prism pro and Prism starter features and licensing understand now.
Thanks to being with HyperHCI Tech Blog to stay tuned and being creative.!
Related